LCMS Missions
Keep up to date on the missionaries funded in part by the Beautiful Savior Lutheran Church Local-Regional-Global (LRG) fund. Visit the LCMS website to learn more about how the LCMS missionary program is spreading God's Word and how to provide additional support to our missionaries.
"And then at night he told them of the God who set the stars above them; who made the earth and them, and loved them; and of Jesus, His only Son, who came to die for them, and who would not only be their Savior, but their loving companion by day and by night; unseen, but always at hand, caring for each one of his children individually, knowing their joys and their sorrows.  Gradually he made them understand that he was the servant – the messenger – of this Christ, and had come there for the express purpose of helping them to know their unseen Friend."
– From "The Man of the Desert" by Grace Livingston Hill
The Ritzman Family
Papua New Guinea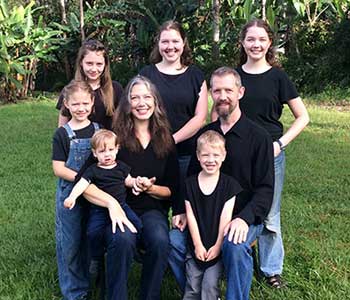 Michael and Beth Ritzman have been serving the Lord as missionaries of The Lutheran Church—Missouri Synod (LCMS) in Papua New Guinea. In this role, Michael served as business manager and interacted with the LCMS partner church in this country to coordinate all LCMS joint activities, including the operation of a seminary, Bible schools and projects that serve remote congregations.  After serving four years in Papua New Guinea, the Ritzman family is returning to the US and are settling back in their former home town of Fort Wayne, Indiana.  Beautiful Savior Lutheran Church is thankful for their mission work and we feel blessed to have been a small part of it from afar by providing financial support.