Dennis J Durham
Pastor
"After 35 years of ministry in Illinois and California, the Lord has brought me to Beautiful Savior, where I am privileged to serve as pastor. My wife, Rachel, and I look forward to this new chapter in our lives, and to being a part of God's plans for this community of faith and all whom He would bring into our midst. We sense there are exciting days ahead, and invite you to be a part of it all. We can't wait to meet you!"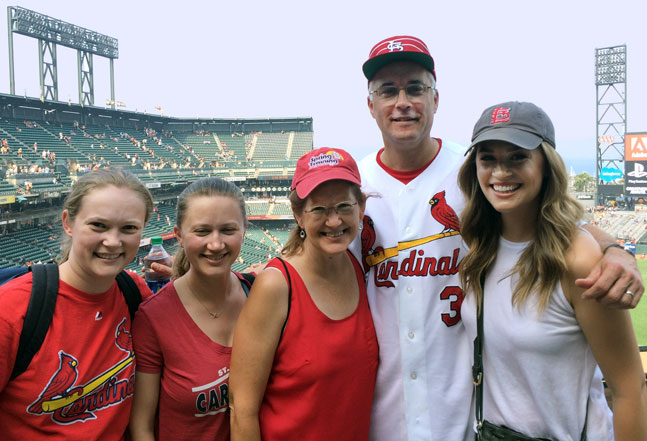 Pastor Dennis Durham was born in Peoria, Illinois on September of 1957, and baptized at Trinity Lutheran Church by Pastor Paul Lessman. He attended worship and various church activities at Trinity with his family until he moved away from home in 1977. As a teenager and young adult, he enjoyed working with the developmentally-disabled programs of the church, was very active in the senior high youth group, played for the church basketball team, and co-taught a 4th grade Sunday School class for one year. He credits those years as being some of the most important in his faith journey and is thankful to God for all the dedicated adults he encountered along the way.
Dennis attended Concordia College in River Forest, Illinois from 1979 – 1983. While in college, he worked at a Lutheran camp in Minnesota where he met his wife-to-be, Rachel Krause, a fellow counselor. They were married in 1982. Following graduation, he served congregations in Park Ridge, Illinois, Dundee, Illinois, and Lodi, California as a teacher and/or DCE. During those years, the three Durham daughters arrived: Samantha, Ashley, and Mary.
In the fall of 1996, Dennis enrolled at Concordia Seminary in St. Louis in the Alternate Route Program (course work designed for LCMS church workers intending to become pastors). Following his vicarage at St. Mark Lutheran Church in Santa Rosa, California, Dennis was ordained and installed as assistant pastor at St. Mark in July of 1999, where he served until Beautiful Savior extended a call to him in July of 2019. During their time in Santa Rosa, his wife Rachel served the congregation as Director of Music Ministries, where she directed the adult and children's choirs, as well as other ensembles, and played the organ for the traditional worship service.
Throughout his time in ministry, in addition to his called responsibilities, Pastor Dennis has served at the district level in youth ministry and as an LWML District Counselor, in addition to serving on the Board of Directors of Mt. Cross Lutheran Camp and the BOD of a non-profit organization in Santa Rosa. Over the years, Pastor Dennis and Rachel have also shared their gift of music at various national, district and circuit events within the church at large.
Their oldest daughter, Samantha joins her husband Chris on the staff of Trinity Lutheran Church in Paso Robles, California. Chris is the pastor; Samantha teaches at the Lutheran school on site. They have two children – Lily, age 7, and Caleb 4. Daughter Ashley lives with her husband Steven in Los Angeles. She works as a self-employed make-up artist , and is also an aspiring actress; her husband works for Trader Joe's. Youngest daughter Mary lives with her husband Nicholas in central Illinois and works part-time for Chick-fil-A as well as Concordia Lutheran School as a teacher aide (and joins her father as a die-hard St. Louis Cardinals fan!); Nicholas works for Cigna Healthcare.