Beautiful Savior Chancel Window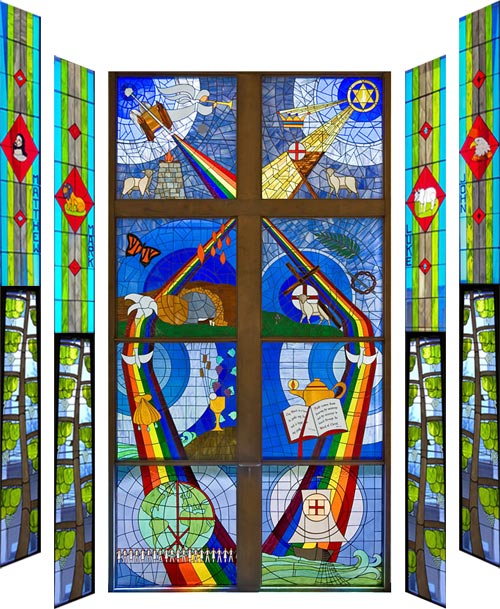 The stained glass window in the sanctuary was designed, constructed, and installed by the Rev. Martin Heinicke, pastor of Beautiful Savior Lutheran Church from its early beginnings in 1980 until he retired in 1989. The church building and window were dedicated on September 22, 1985.
The panels of the chancel window begin with the promise of a Messiah and end with that promise fulfilled and being taken to all the world as the Good News of salvation for all people. The whole work of salvation is centered around the cross of Jesus Christ where "while we were yet sinners, Christ died for all."
Overarching all these panels is the message of hope guaranteed to mankind through the cross of Jesus Christ and from it flow the blessings and promises symbolized in the rainbow, the ancient promise of God and constant reminder that God keeps all the promises He makes.  Darker shades at the edge of each panel give way to lighter hues, indicating the changes in life from "walking in darkness" to now "walking in light" through faith in Jesus Christ.